Easy Rainbow Baby Rattle – Free Crochet Pattern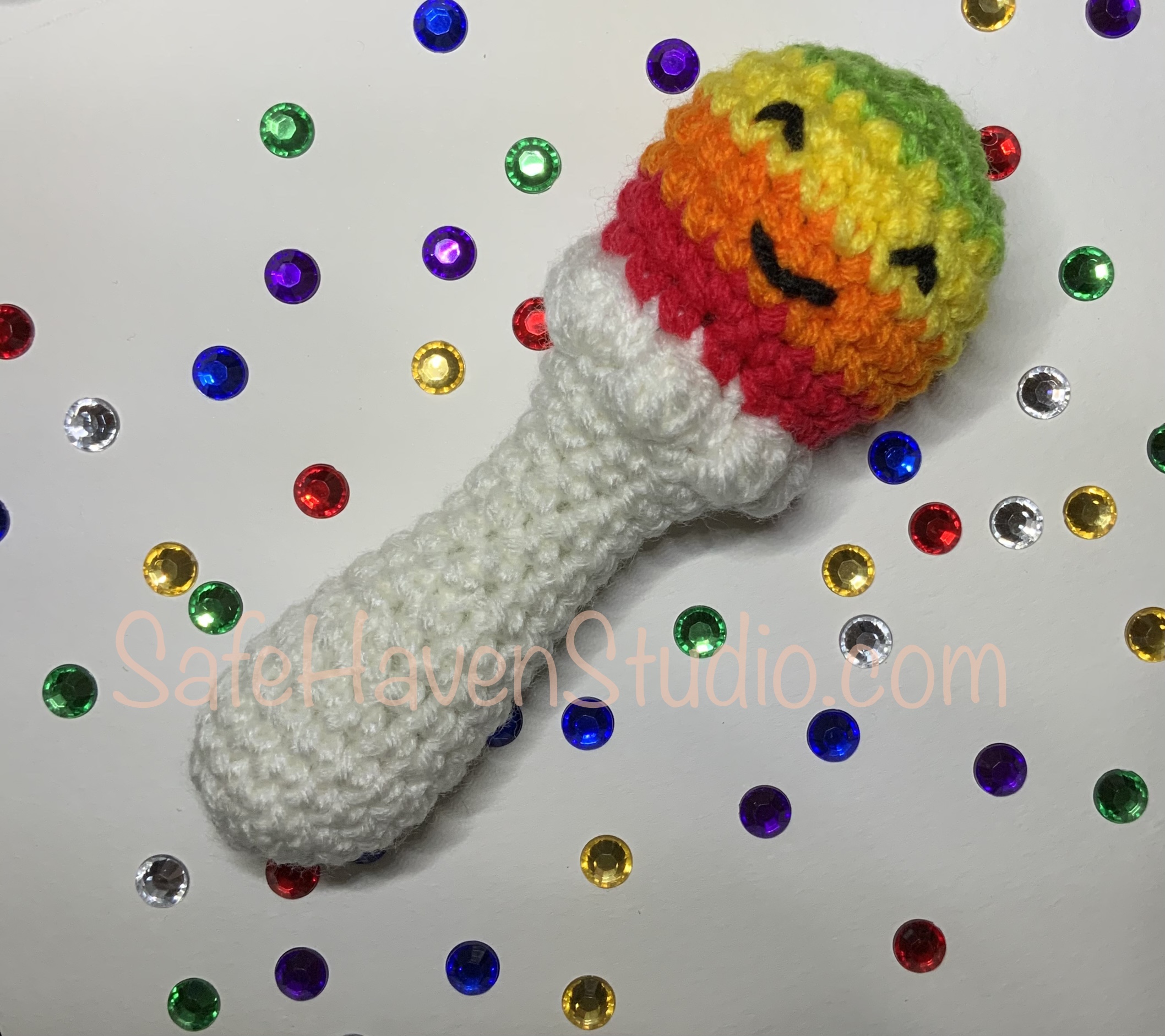 Follow this easy crochet pattern to make a cute baby shower gift in less that 30 Minutes!
If you can't think of what to make or forgot to make anything at all, this is the perfect last minute gift for the new arrival. It's a smiling rainbow with a rattle insert inside and it all tops the fluffy clouds. Who doesn't love a good bobble stitch? You can use the traditional rainbow palette or mix it up with some other colors!
---
Rainbow Rattle Materials
Worsted Weight Yarn in any color(s) of your choice
Rattle Insert from Amazon
3.75mm (Size F) Crochet hook
Stuffing
Yarn Needle
Scissors
Crochet Terms (US Terms)
MR – Magic Ring
Sc – Single Crochet
Inc – Single Crochet Increase
Dec – Single Crochet Decrease
St – Stitch
Bobble Stitch (Check out this tutorial by Heart Hook Home https://youtu.be/P9QzJHLPkSM)
---
Starting from the bottom up in White
R1: 6 Sc in MR
R2: *Inc* (12)
R3: *1 Sc, Inc* (18)
R4-5: *Sc* (18)
R6: *4 Sc, Dec* (15)
R7-8: *Sc* (15)
Begin to stuff and stuff as you go.
R9: *3 Sc, Dec* (12)
R10: *Sc* (12)
R11: *2 Sc, Dec* (9)
R12-15: *Sc* (9)
R16: *2 Sc, Inc* (12)
R17: *3 Sc, Inc* (15)
R18: *Sc* (15)
R19: *1 Bobble St, 1 Sc* 7 times. 1 Sc in last stitch and change to red yarn. (7 Bobbles and 15 stitches in total) Make sure to pop the bobbles out!
R20 (in Red): *4 Sc, Inc* (18)
R21: *2 Sc, Inc* (24)
Change to Orange.
R22-23 (In Orange): *Sc* (24)
Change to Yellow.
R24-25 (In Yellow): *Sc* (24)
Change to Green.
While stuffing the head, don't forget the rattle insert! Make sure it's surrounded by stuffing.
R26 (In Green): *2 Sc, Dec* (18)
R27: *1 Sc, Dec* (12)
R28: *Dec* (6)
Finish off and sew the last 6 stitches closed with the tail.
To make the face use any color yarn (I used black) and make whatever face you like.
---
Thank you so much for viewing my pattern and I'd love to be tagged in your makes on Instagram!
Tag me @safehaven_studio
This is an original pattern by Shelby of SafeHavenStudio. You cannot claim this pattern as your own, distribute, or sell this pattern. If you want to share, you may link to this pattern but please do not reprint on your site. You may sell items made from this pattern in small quantities but please give credit to me (Shelby at SafeHavenStudio) for the pattern. Thank you for respecting the boundaries and products of designers.
---