Happy Eggnog – Free Crochet Pattern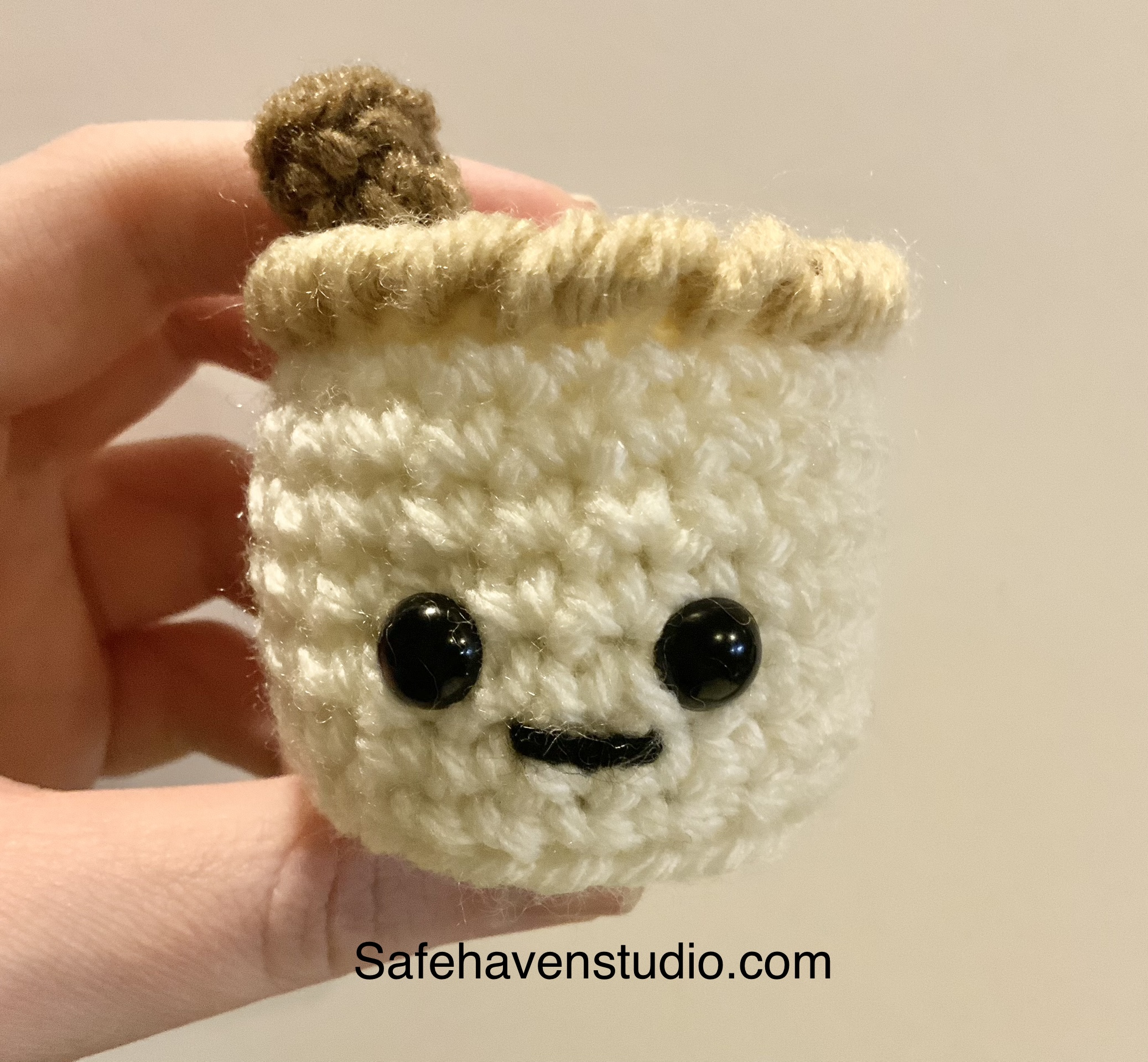 I love eggnog! I can't have it anymore so that resulted in me designing this cute piece. You can give as gifts, sell at markets, turn into ornaments, keep him on your nightstand. The possibilities are endless and it's so quick to make!
I do use the crab stitch (AKA the reverse single crochet) around the rim of the cup. You can find a video tutorial by Tamara Kelly here
Don't forget to tag me in pictures of your makes by tagging me on instagram @safehaven_studio and please don't forget to check out my paid patterns over here on my ko-fi or here on my Ravelry. Thanks so much!
---
Materials Needed
Worsted weight yarn in Ivory, Cafe Latte, Black, and Beige
9mm or 10mm safety eyes
3.75mm (F) Crochet Hook
Stuffing
Yarn Needle
Pins
Scissors
Crochet Terms (US Terms)
Ch – Chain
Sl St – Slip Stitch
MR – Magic Ring
Sc – Single Crochet
Inc – Single Crochet Increase
Dec – Single Crochet Decrease
FLO – Front Loop Only
BLO – Back Loop Only
St – Stitch
FO – Fasten Off
---
Starting with Ivory
R1: 6 sc in MR (6)
R2: *Inc* (12)
R3: *Sc, Inc* (18)
R4: *2sc, Inc* (24)
R5: *Sc in BLO* (24)
By crocheting in the Back Loop you are creating a ridge. As you continue, you'll see how the ridge is creating the bottom of the cup.
R6-11: *sc* (24)
R12: *2sc, Dec in BLO* (18)
By crocheting in the back loop in row 12, this creates another ridge. This ridge will be the top rim of the cup.
Now for the face, insert the eyes between rows 7 and 8. Make sure they're about 3 stitches part with 2 spaces between the three stitches.
For the mouth, use black yarn or smaller embroidery floss (whichever you prefer) and make you a small smile around row 6.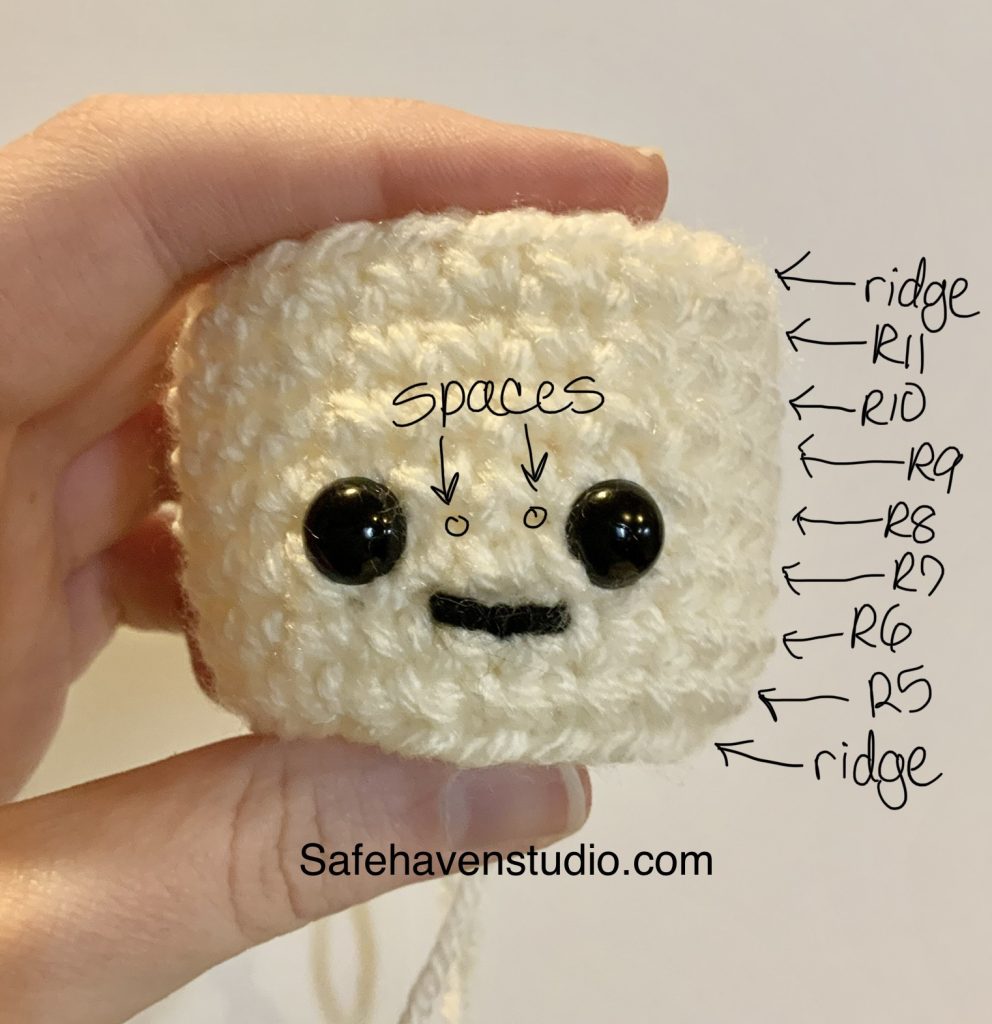 R13: *Sc, Dec* (12) – Begin to stuff
R14: *Dec* (6)
FO and sew hold closed.
Rim in Beige
Making sure it's at the back of your eggnog, join the yarn in one of the front loops of Row 12 and ch 1. Sc once into the same stitch.
In the remaining front loops, work a reverse single crochet in each front loop around. (24)
A video that can explain it in detail is by a Tamara Kelly here.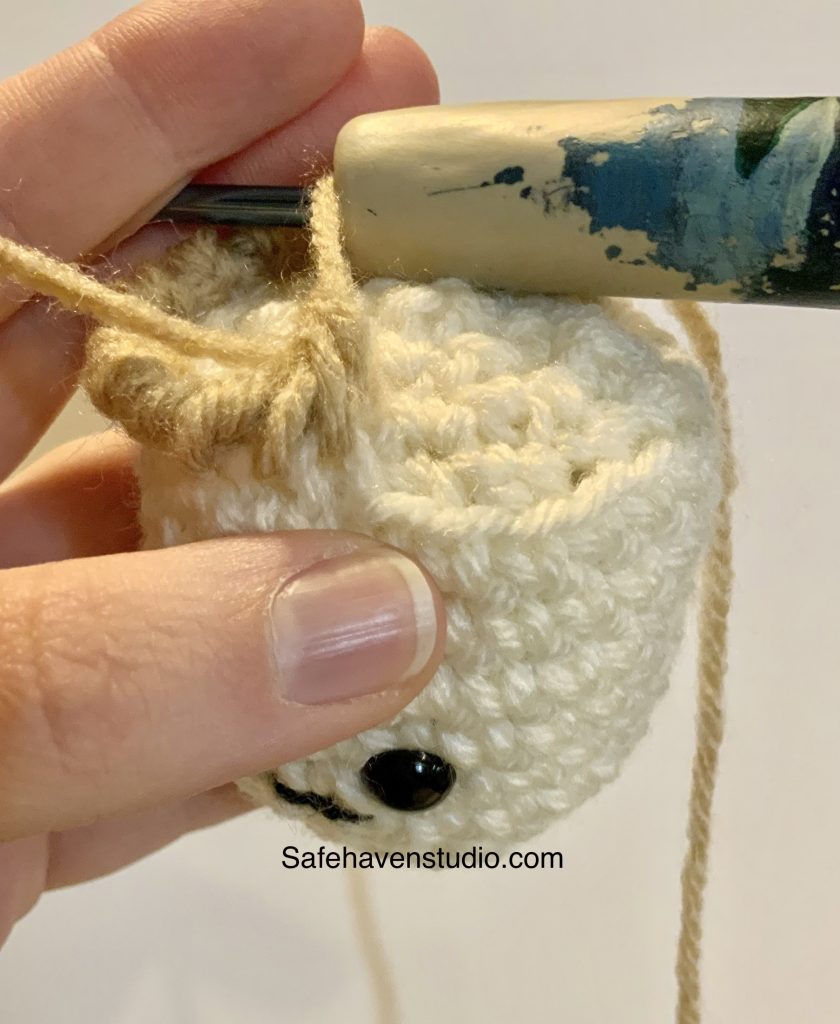 Cinnamon Stick in Cafe Latte
R1: 5 sc in MR (5)
R2: *Sc in BLO* (5)
R3: *Sc* (5)
Sl St once and FO, leaving a tail to sew to the eggnog.
Sew to the top left side of the eggnog, a little towards the front.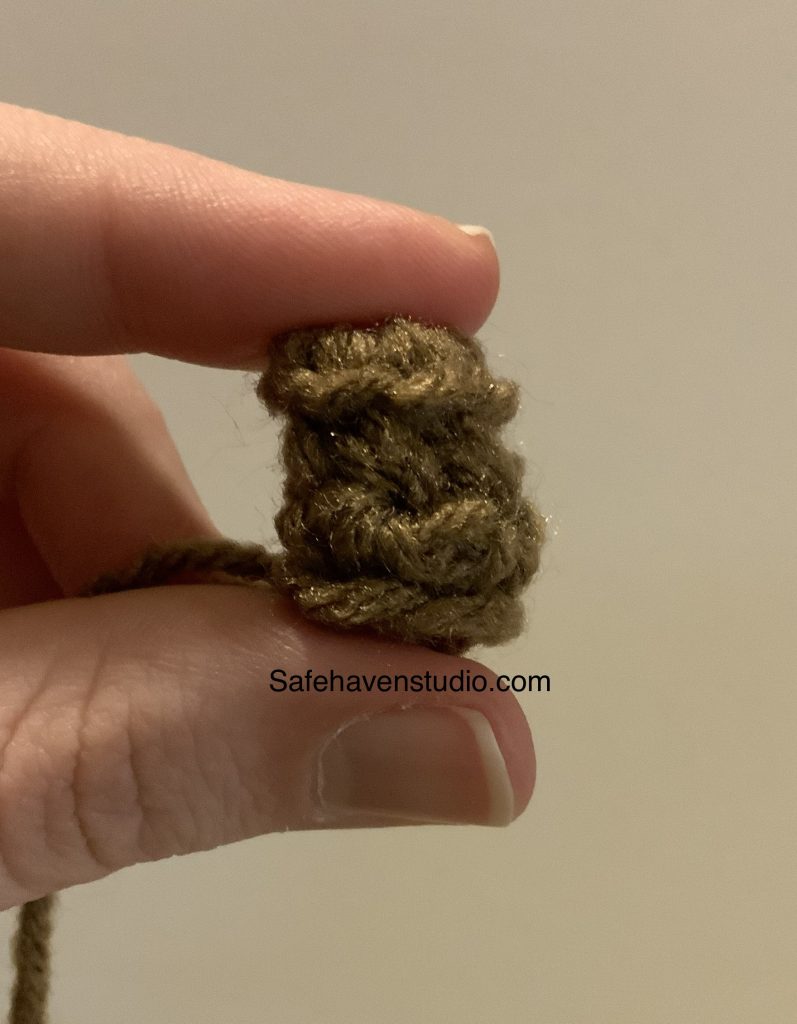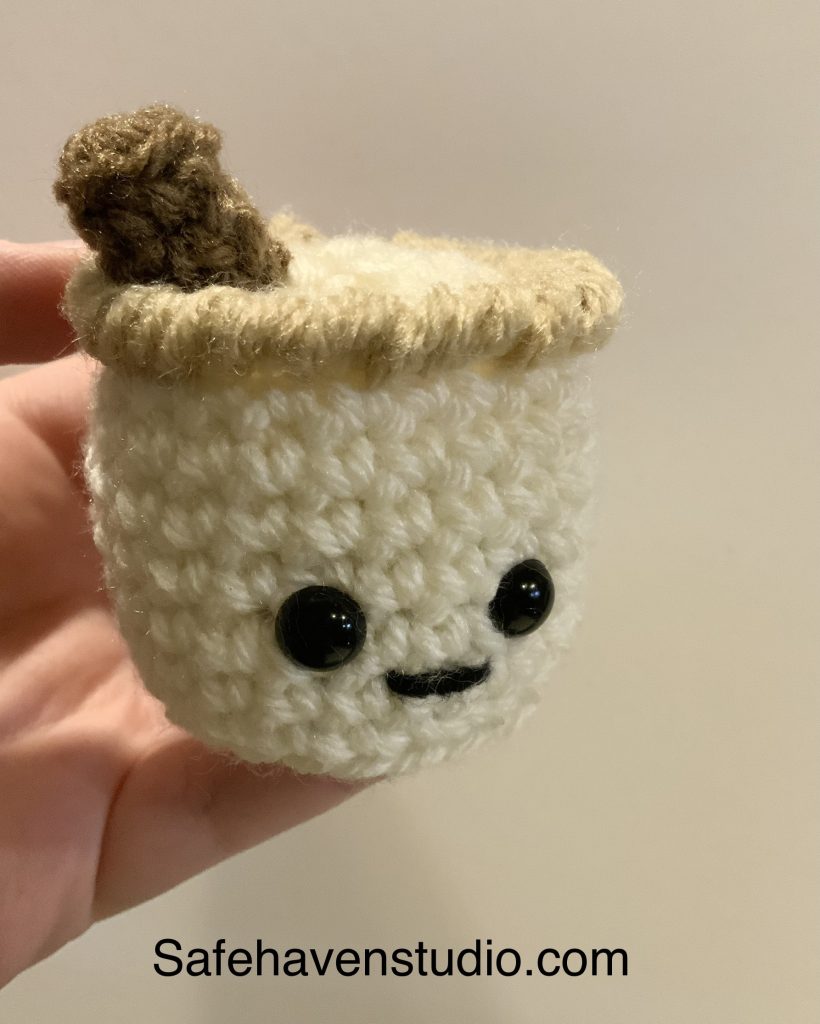 ---
Thank you so much for your interest in my pattern! I'd love to see your creations on instagram so please tag me @safehaven_studio
I have a Ravelry shop here and I also have a new ko-fi shop where I'm selling all my paid patterns. It has links to all my socials.
This is an original pattern by Shelby of SafeHavenStudio. You cannot claim this pattern or images as your own, distribute, or sell this pattern or images. If you want to share, you may link to this pattern but please do not reprint on your site. You may sell items made from this pattern in small quantities but please give credit to me (Shelby at SafeHavenStudio) for the pattern. Thank you for respecting the boundaries and products of designers.